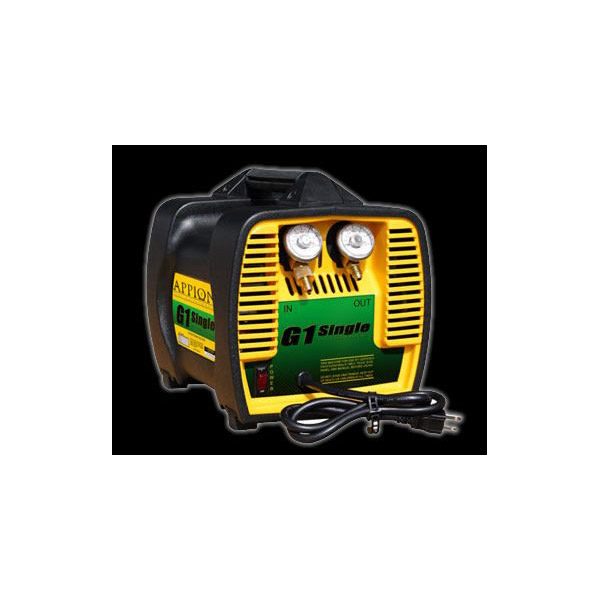 Appion G 1 Single Refrigerant Recovery Machine
The G5 twin was designed from the ground up to provide the best refrigerant recovery speeds in all conditions with the smallest size portable unit.
the g5 twin starts with an extra heavy-duty crankcase for driving twin pistons.These twin cylinders allow for greater throughput for both liquid and vapor phase across the board the performance the g5 twin is up to 188% faster in all conditions.
theg5 twin's crankcase is completely isolated from the refrigerant flow. As a result,the main drive of the unit will last much longer because the bearing are not being washed in refrigerant (and the nasty stuff) like most other units.Along with better cooling for the cylinder heads,the seals & valves stay cooler and last longer too liquid slugging is now a thing of the past..The g5 pumps vapor or liquid refrigerant without throttling.No clog-prone orifices or other liquid flashing gimmicks to cause maintenance problems down the road.
just as the v8 allows automobiles to purr along, the g5 twin cylenders even out the loads while delivering greater pumping speeds for both liquid and vapor..The case is designed for maximum durability and with a soft gripping rubber ergonomic handle..Once you experience the greater performance of the g5 twin.. The singe cylinder machines will be obsolete.
The g5 twin is designed to be easy and quick to assemble. It turns out its easy and quick to take apart too… This makes repairs quick and easy..The entire unit can completely rebuilt in around 20-30 minutes with simple tools… All parts are easily accessed and replaceable for long life since it is soeasily assembled initially and so easily repaired in the field.. Theg5 twin is the best value of any machine in its class
G5 twin specifications
length 349mm hieght 262mm width 239mm weight 11kgs power 240v 50hz 10 amps also 115v 60z 10amps
heavy-duty crankcase isolated from refrigerant —-high speed / high pressure turbine fan—over 600cfm—-twin cylinders—simple two valve control—-field serviceable easy to replace guages—heavy-duty 1/12 hp motor high torque ballbearing
Have a question about this item?
If you have a question about this item please fill in the form below.